Slide 1 of 1
No-quibble free returns:
Unhappy with your item? We offer no-quibble free returns
Nature-friendly products:
Sourced through ethical and sustainable accreditations
Last order date:
Order by 19th December for Christmas delivery
Supporting the RSPB:
Every purchase you make supports wildlife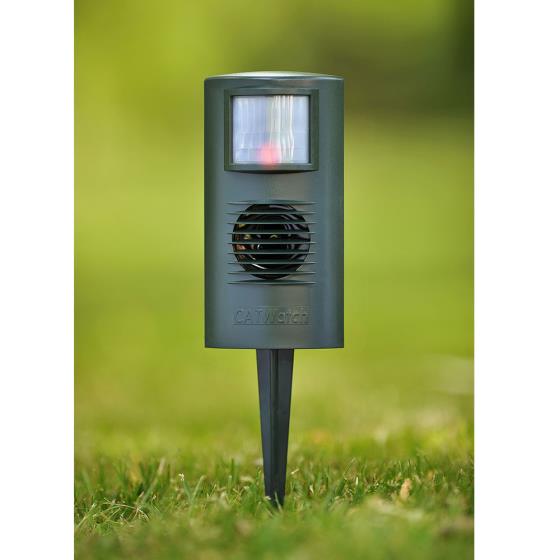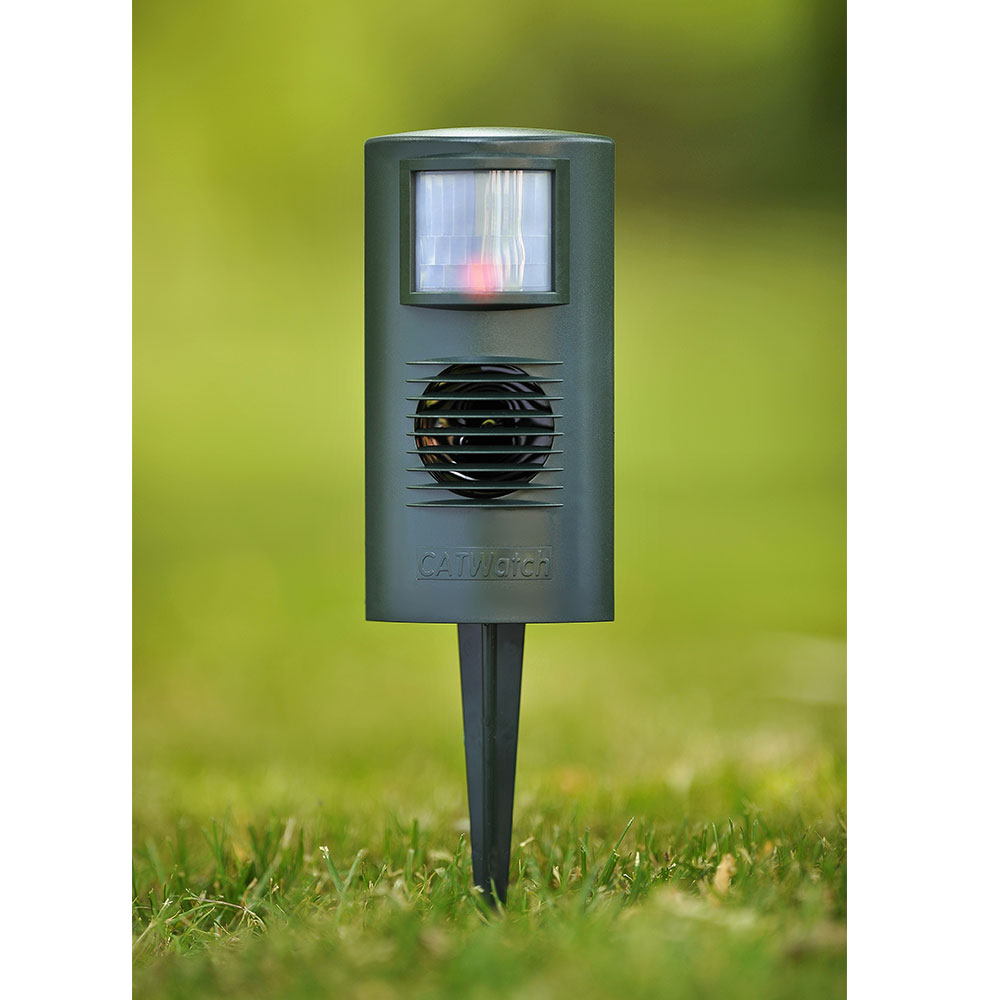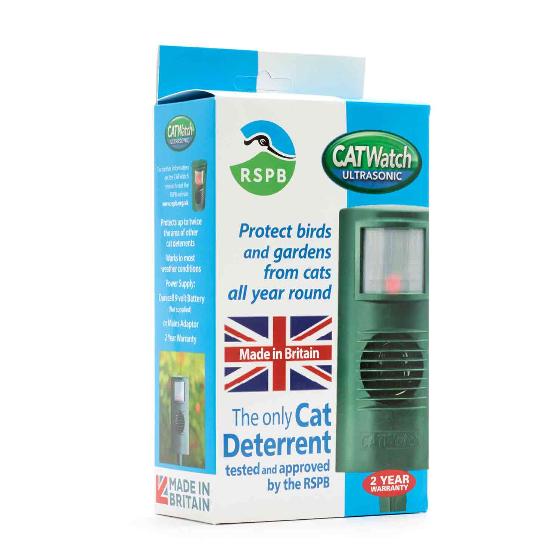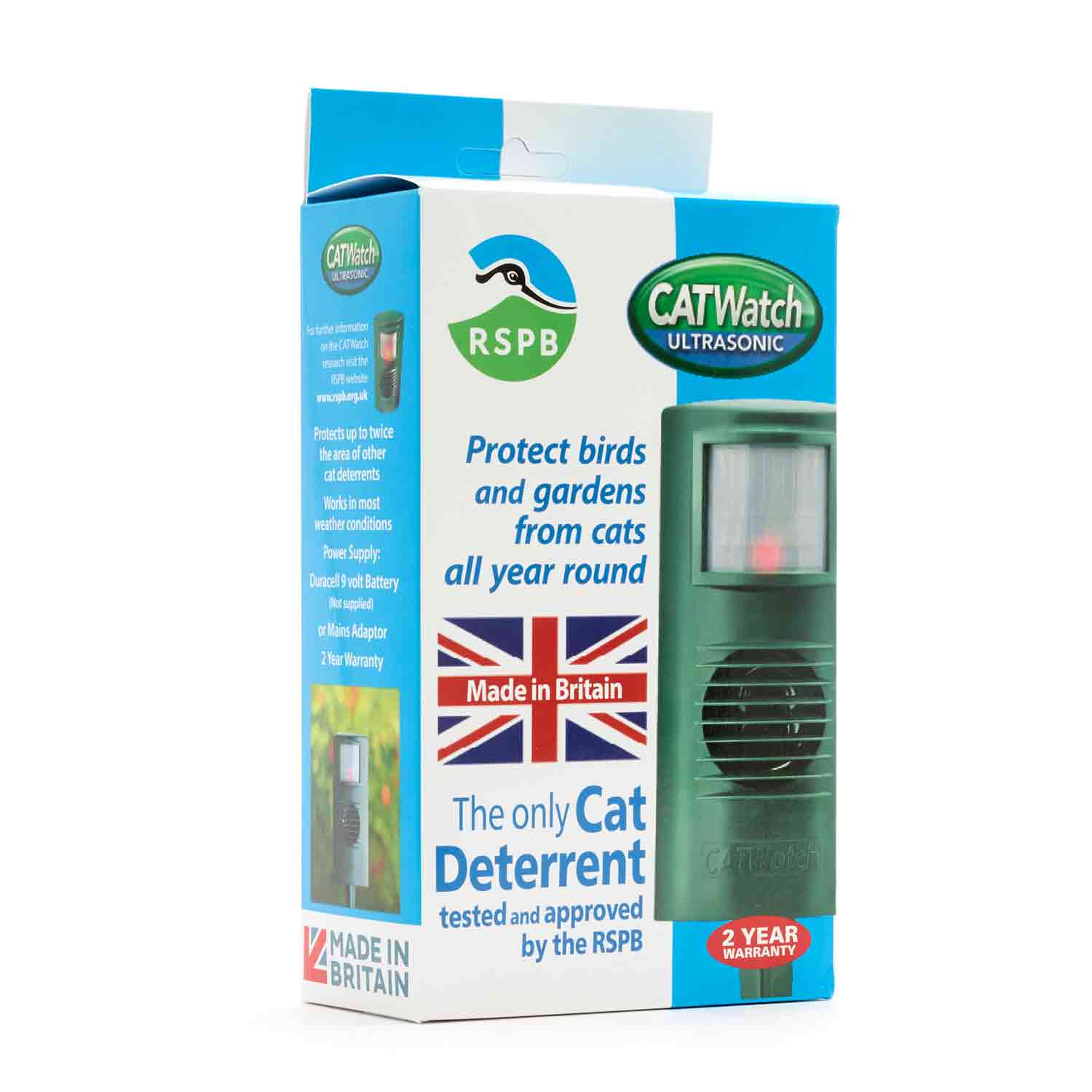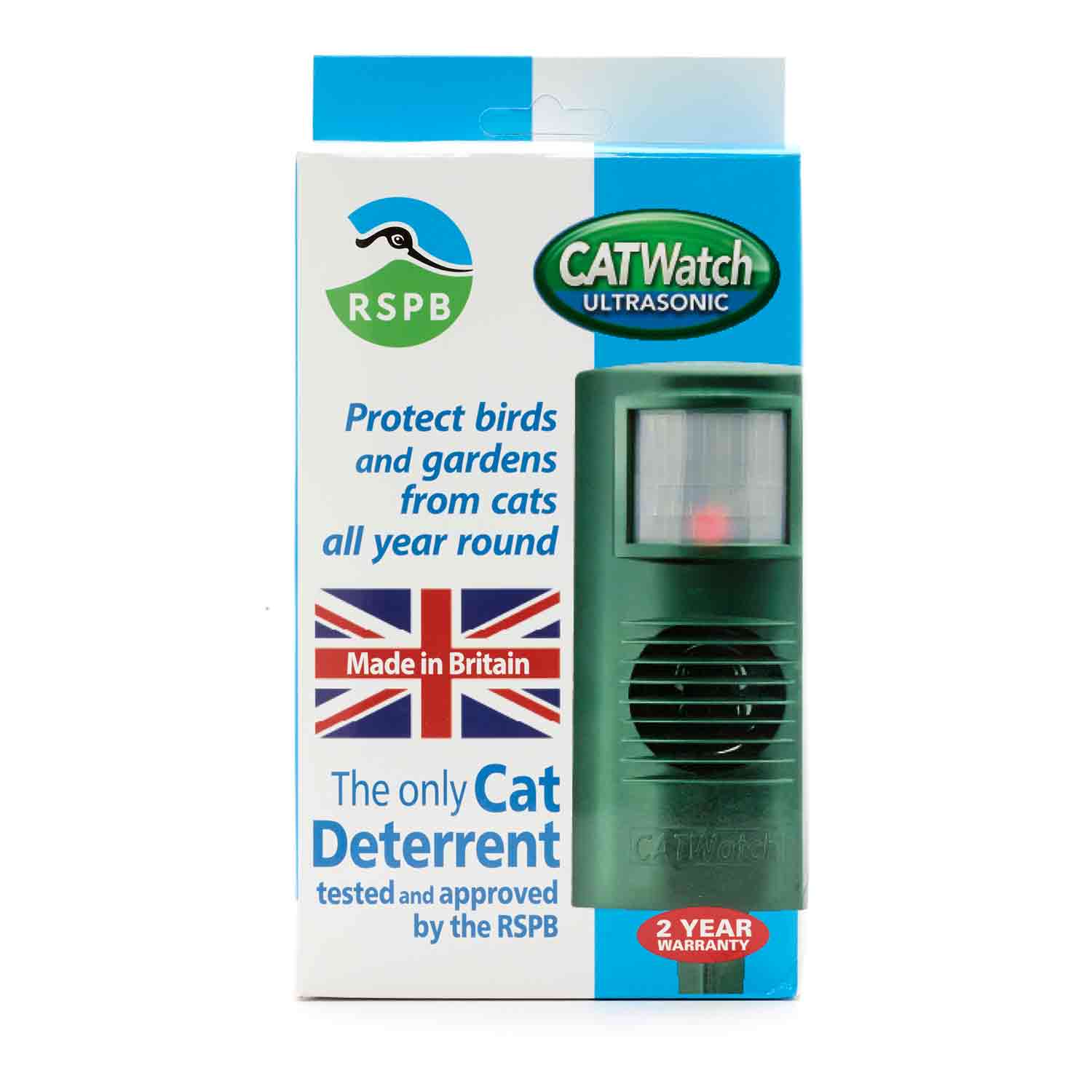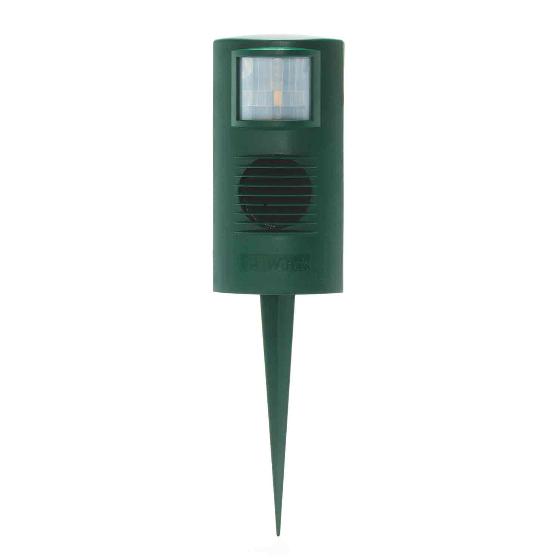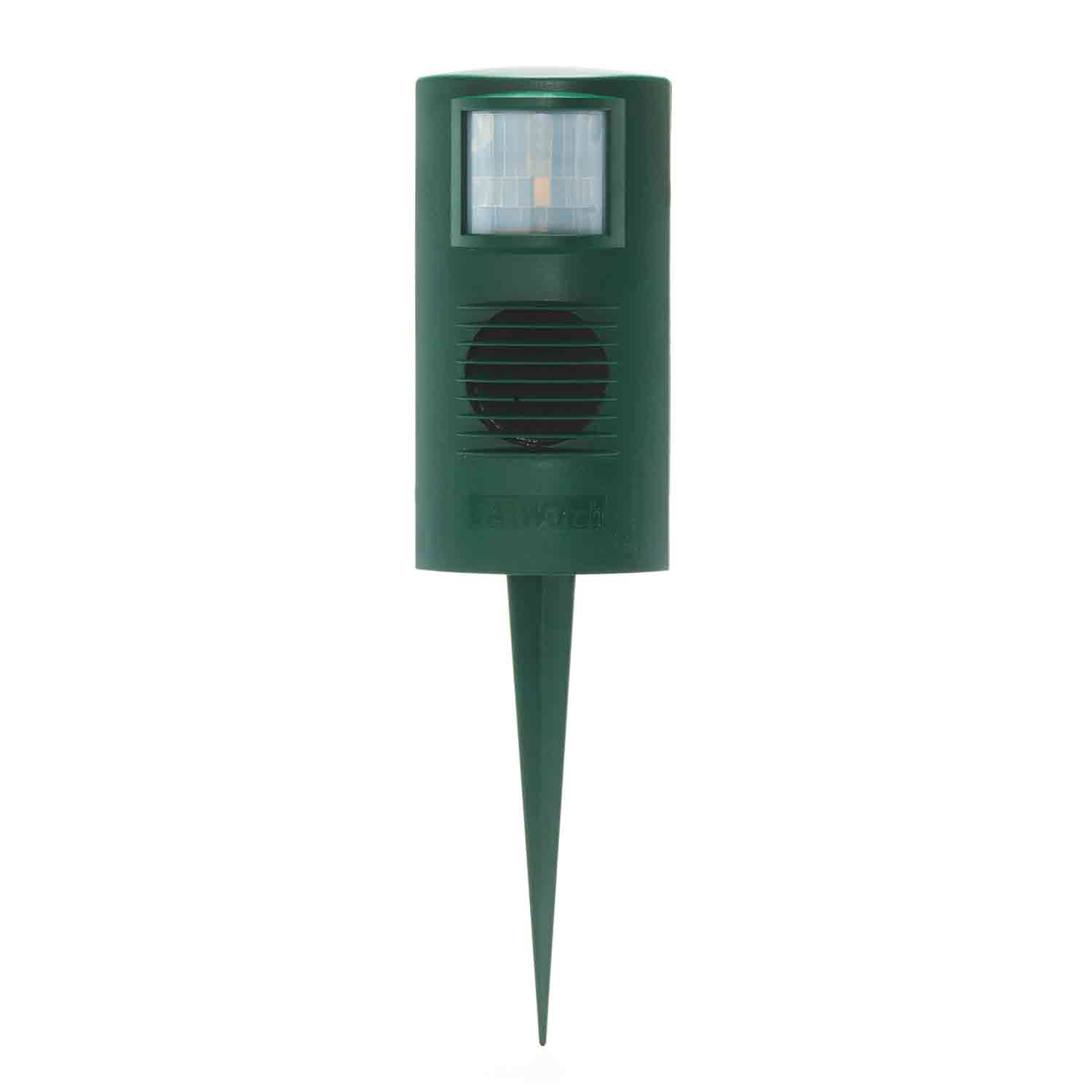 Product description
The only cat deterrent tested and approved by the RSPB!
CATWatch, the UK's leading cat deterrent manufactured in the UK, has successfully completed a two-year scientific trial conducted by the RSPB to determine its deterrent effect on cats in residential gardens. The results are published in the Applied Animal Behaviour Science Journal after peer review.

The research concluded that CATWatch reduces cat intrusions into gardens. The longer the unit is in place, the more effective it is.
Weather resistant.
Cost-effective.
Approved by the RSPB.
Two-year manufacturer's warranty.
Unit 14.5 cm tall (with 16.6 cm ground spike).
Supplied with a comprehensive instruction booklet with diagrams.
Passive infra-red sensor detects body movement and heat.
Electronic micro-circuitry and computer controlled microchip activates signal as cat enters protected area & switches off as the animal leaves.
High quality speaker emits series of modulating ultrasound frequencies 20-24 kHz repellent to cats.
On/off switch plus red led light.
Positioning stake.
Secure all weather high impact casing.
Progressively reduces cat intrusions within your garden.
Requires mains 12-volt adaptor (available separately) or one 9-volt alkaline battery (not supplied).
How to deter cats with CATWatch
Push the Catwatch ultrasonic cat deterrent into the ground, and when the sensor detects movement it emits a high-pitched sound disliked by most cats (but inaudible to humans). The frequency emitted is unique to cats hearing range, so the Catwatch won't bother other garden wildlife, such as hedgehogs.
Some cats will see the device as a challenge initially, and it may take up to four weeks to put them off coming into your garden.

Many people find cat-fouling a nuisance. This device is proven to reduce the presence of cats in gardens and the deterrent effect increases over time.
Pair with the mains adaptor for best volume strength and 'set and forget' convenience.
We would recommend powering this product with the CATwatch cat deterrent mains adaptor, available to purchase together (CATwatch cat deterrent with mains adapter) with a £3 saving, or separately (CATwatch cat deterrent mains adapter). The mains adapter is a more environmentally friendly option, and better value for money for long term use.
Alternatively, this product takes 1 x Duracell 9V alkaline battery (battery not included).
If using batteries
Always use Duracell 9V batteries (MN1604)
Do not use out of date or rechargeable batteries.
Use only Duracell alkaline batteries; the use of other batteries will invalidate the warranty.

Robin
Age: 55 - 64


23/Sep/2023
Hasn't worked
My unit has been in place now for just under 4weeks and I've still got a steady stream of 3-4 cats entering an area at night where we try to feed our visiting hedgehogs, but the cats are getting their first!

I used a brand new Duracell battery, which has now exhausted itself, so if the batteries only last 3-4 weeks, this is going to get expensive if rechargeable batteries are not suitable?

Watching our Hunter Wildlife camera, we can see the infrared light on the unit come on as the cat/s come into view, and calmly sit less than a meter away from the [scarer] eating the food we put out!

I'm going to give it another 3 weeks with another new battery, if nothing changes, then unfortunately it will be sent back.
RSPB response
Thank you for your feedback. Batteries should last 2-3 months, this may vary depending on the cat traffic as the units are activated by the movement of body heat.
Breeda duggan
Age: 55 - 64


05/Nov/2022
Superb, good quality and repairable!!!
I've got 2 cat deterrents. The first we bought over 25 years ago ….it got mishandled by builders who accidentally broke it about 13 years ago. That's how I got a second one and in purchasing that I found they … the makers (Concept Research), did repairs. However, I thought I'd dispensed with the 'broken' one but I found it a few weeks ago in the shed. So I sent it off never thinking this 25 year old gadget could be repaired as it looked in a very bad state. However, the makers of this glorious and very effective gadget is now repaired and all it's lost bits replaced and the repair fully completed. I'm so impressed that a deterrent aged at least 25 years old, that had suffered an accident with the builders, left in the shed for the past 10 years is now fully functional and deterring the neighbor ing cats from
My garden. I'm incredibly impressed by concept research and their repair skills and not adding more plastic to landfill n saving money. Alongside the fact that I find this the only cat deterrent that has ever worked in my garden. Thank you Concept Reseach for a brilliant service.
No more cats in my garden!!
I was unsure how successful the cat deterrent would be, but I have been amazed at just how quickly the cats have been deterred; in fact it took less than a week for the two local cats to disappear from my garden. My resident hedgehog is still happy to visit without being disturbed by the cat deterrent.
Although the product information says that the sound is inaudible to humans, I can hear it for 95% of the time and so have to turn it off when I am working in the garden.
I would recommend this product.
Free UK delivery for orders of £50 or more (or £3.95)*

Please allow 3-5 working days for in stock items to be delivered
See our delivery and returns page for full details.
RSPB Shop offers a no-quibble free returns policy.
We hope you will be delighted with every purchase, but if not, we will offer you a replacement or a full refund - whatever the reason. Just let us know within 90 days of delivery by contacting our customer service team on 0345 034 7733.
Full details of our returns policy >


Alternatives
CATwatch cat deterrent with mains adaptor
Stop worrying about batteries, ensure full power and save £3 when you buy the RSPB-tested CATwatch cat deterrent with the mains adaptor (also available separately).