Slide 1 of 1
No-quibble free returns:
Unhappy with your item? We offer no-quibble free returns
Nature-friendly products:
Sourced through ethical and sustainable accreditations
Last order date:
Order by 19th December for Christmas delivery
Supporting the RSPB:
Every purchase you make supports wildlife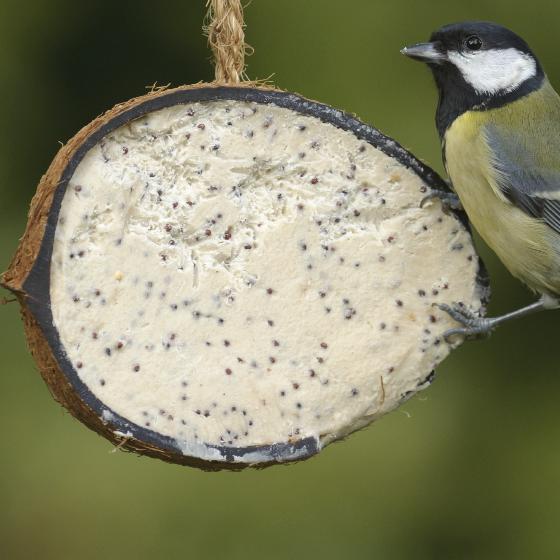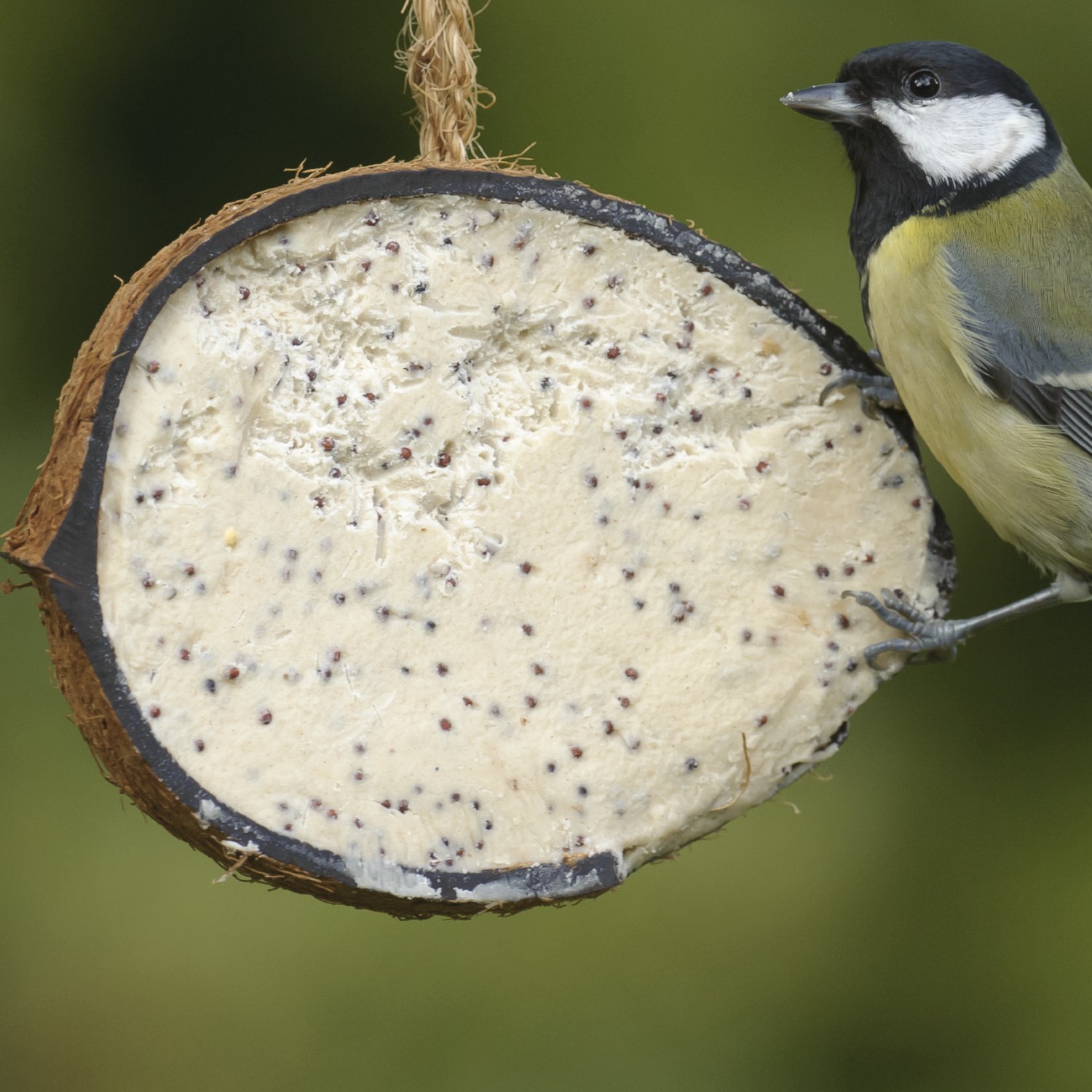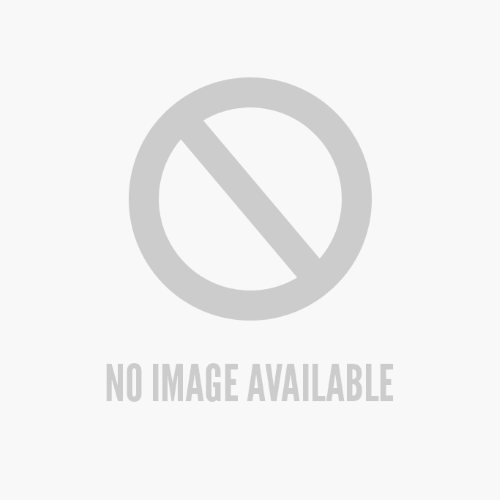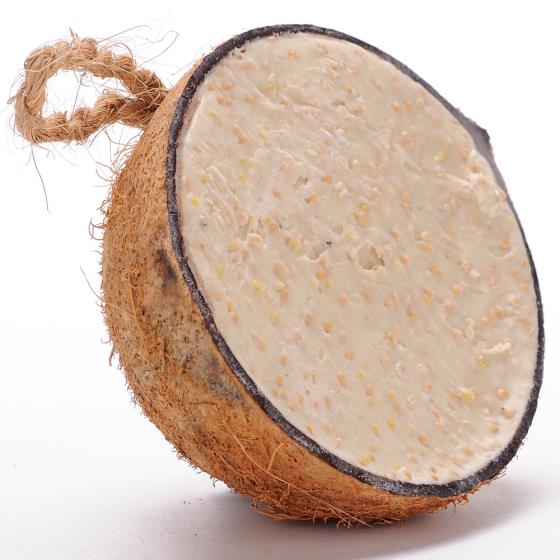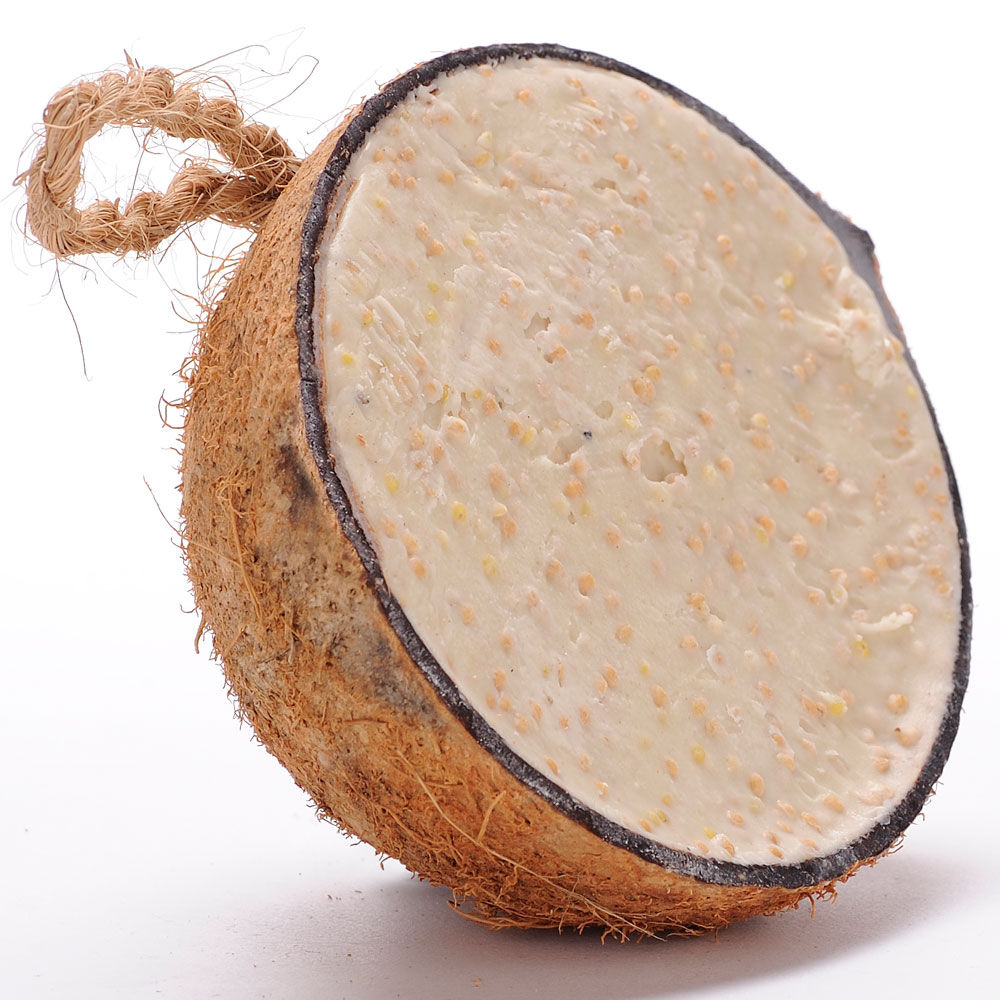 Coconut shell treats box of 10
Product description
Our best-selling coconut shells are a brilliant all-in-one bird food and feeder, and a great fuss-free way to feed garden birds.
There's no need to purchase a bird feeder to use these - simply hang them from the branch of a tree or a bird feeding station and wait for the birds to visit.
Ideal for feeding all year round, our coconut shell suet treats are packed full of premium suet, seeds and cereals. These high-fat treats are particularly important to put out during the winter months, when birds expend more energy and so need more calories to survive.
The easy-to-hang coconut shells are perfect for a variety of bird species, including tits, nuthatches and woodpeckers.
Easy-to-hang coconut shells.
Contain premium suet, seeds and cereals.
Can be fed all year round.
Packaged in a recyclable cardboard box.
Filled in the UK.
Allergens: Contains Peanut Flour.
Please note: As the shells are natural products, they may vary in size.
Type of bird

Coal tit
Blackcap
Blue tit
Great tit
Great spotted woodpecker
Long-tailed tit
Starling
advice

Our suet products are specially formulated to make them suitable for year-round feeding. However, if positioned in direct sunlight they may soften or melt in very hot weather. If this is happening, try placing them in a shaded spot instead, or waiting until the weather is cooler.

Coconut shells are biodegradable. The composting process can take a long time, but don't give up hope! We would recommend breaking them up into as small pieces as possible, taking care to protect your eyes, which speeds up the process. Please check with your local council whether these can be placed into food waste collection bins.

Alternatively, why not clean your coconut shells with a mild detergent and reuse them! You can refill them by making your very own suet or decorate your home with plant pots for seedlings and succulents.
Thursday's Child
Age: 55 - 64


30/Jan/2022
Disappearing Hanging cords
In the last batch of 20 I received over 25% were unable to be hung due to tiny cords. The cords were so small I couldn't even tease them out or get a piece of string through to make my own loop. I have submitted a photograph as requested 2 weeks ago and am still awaiting a reply to my complaint.
sharon
Age: 45 - 54


11/May/2021
loved by birds
black bird family would not leave this, found it on the first day out and many acrobatics ensued to eat it, sadly on day two woke to feathers and intestines under the shell, they were so engrossed a cat got one, thought it would be ok hanging in a tree, any ideas how to prevent further incidents???

agree was smaller than expected though cheaper here than amazon :)
RSPB response
We are pleased that birds have been enjoying this feed, but sorry to hear of this sad incident. We suggest hanging feeders as high as possible to deter cats (at least 1.5m). We also sell a cat deterrent which has been proven to reduce cat intrusions.
Kath Kardan
Age: 25 - 34


05/Jan/2021
Favourite
It took almost a month for the birds in our garden to take notice of these coconut shells but I'm so glad I took the time to let the birds find them. I also put two back to back hanging from the same hook and that seems to have gone down well... they are visited daily by Blue Tits, Great Tits long tailed Tits, Coal Tits. The starlings adore them too... my biggest surprise was that a Great spotted woodpecker visits the coconuts daily and ignores the peanuts. Only the goldfinches and the Robin don't want to know. At the moment I'm putting a new shell every 2 to 3 days so have ordered a bigger pack... next time I will go for the biggest box.
Free UK delivery for orders of £50 or more (or £3.95)*

Please allow 3-5 working days for in stock items to be delivered
See our delivery and returns page for full details.
RSPB Shop offers a no-quibble free returns policy.
We hope you will be delighted with every purchase, but if not, we will offer you a replacement or a full refund - whatever the reason. Just let us know within 90 days of delivery by contacting our customer service team on 0345 034 7733.
Full details of our returns policy >