Slide 1 of 1
No-quibble free returns:
Unhappy with your item? We offer no-quibble free returns
Nature-friendly products:
Sourced through ethical and sustainable accreditations
Last order date:
Order by 19th December for Christmas delivery
Supporting the RSPB:
Every purchase you make supports wildlife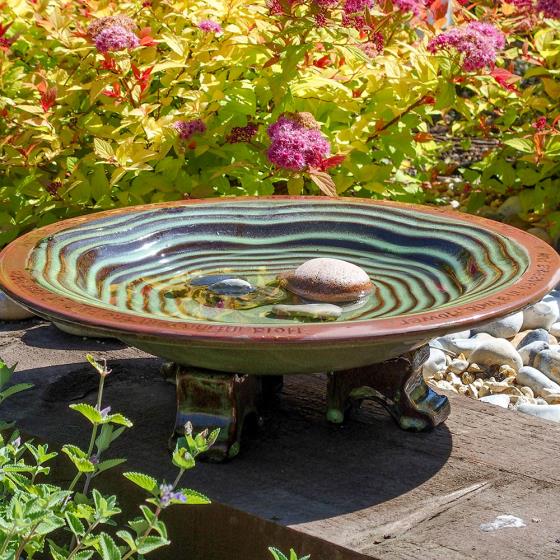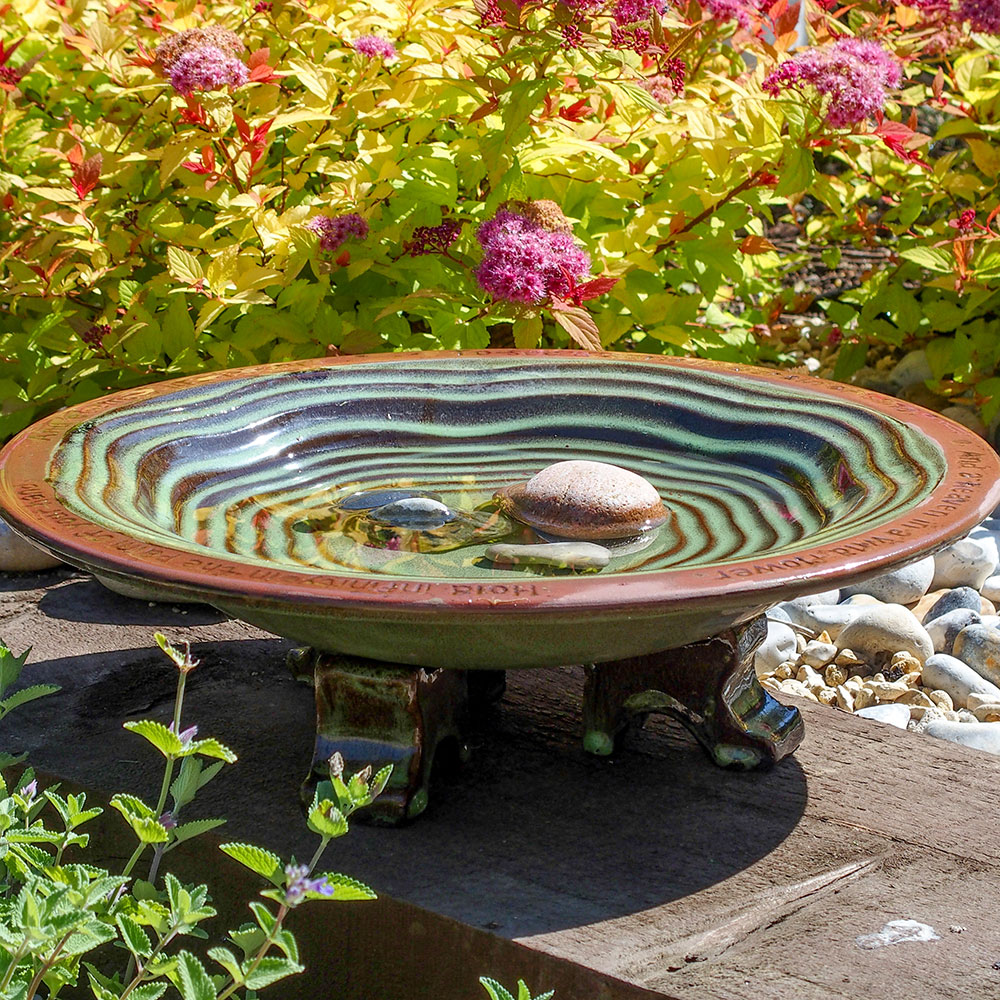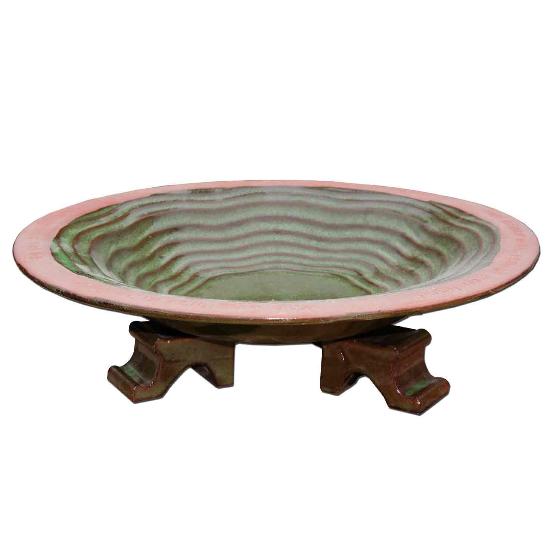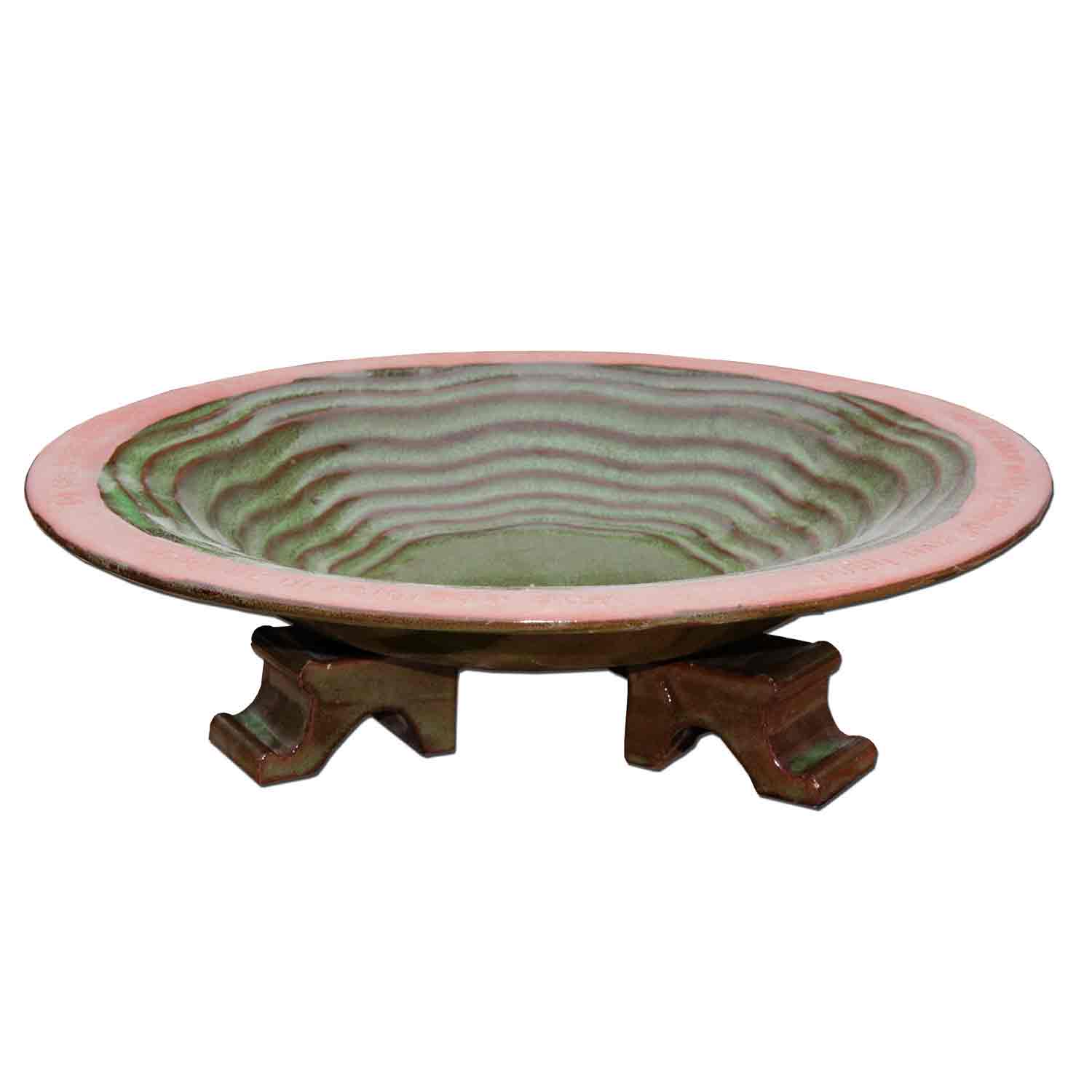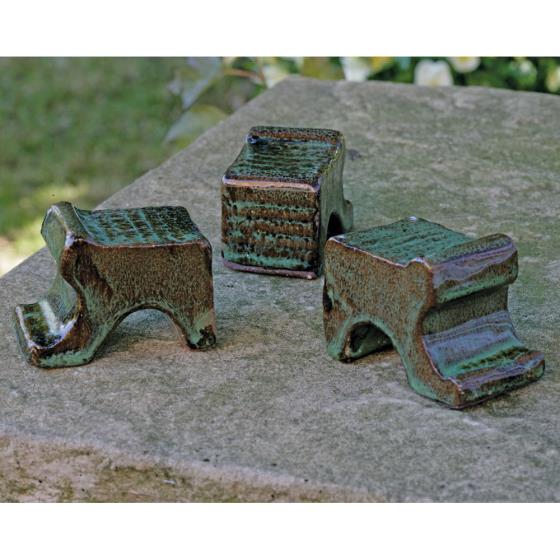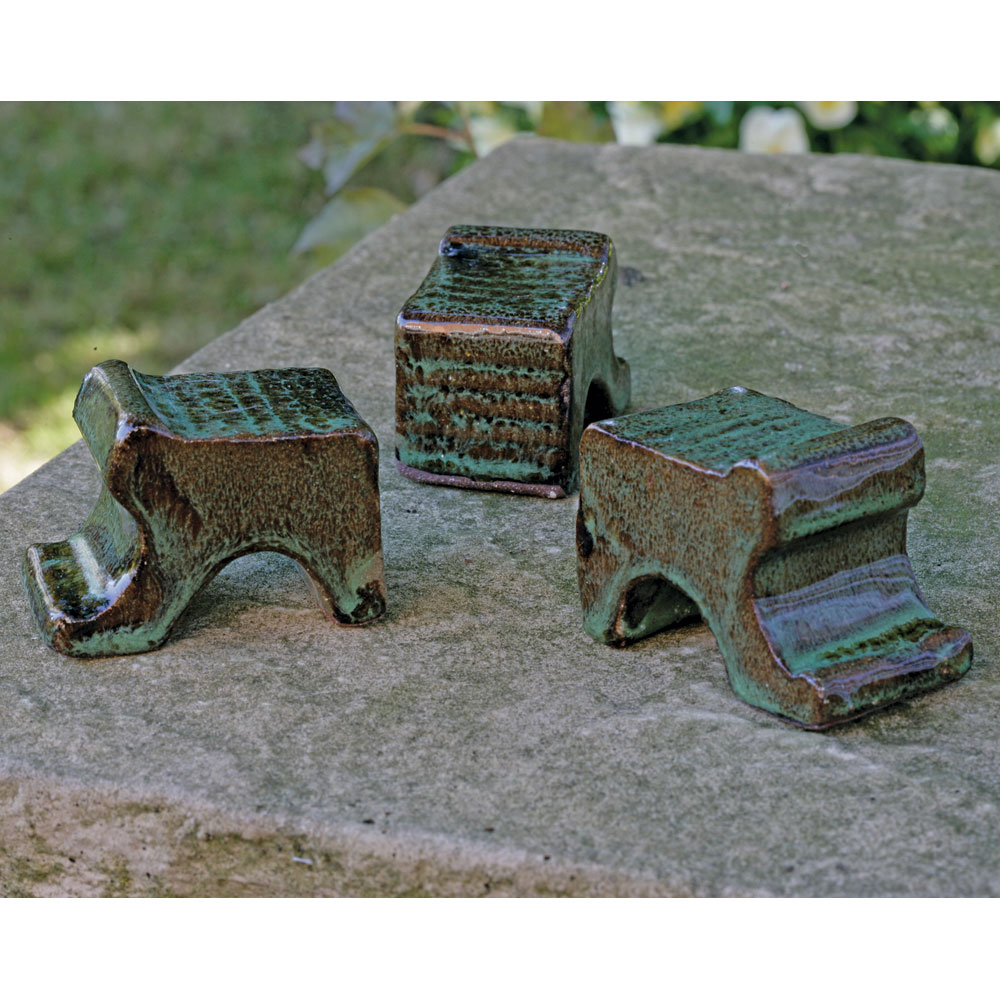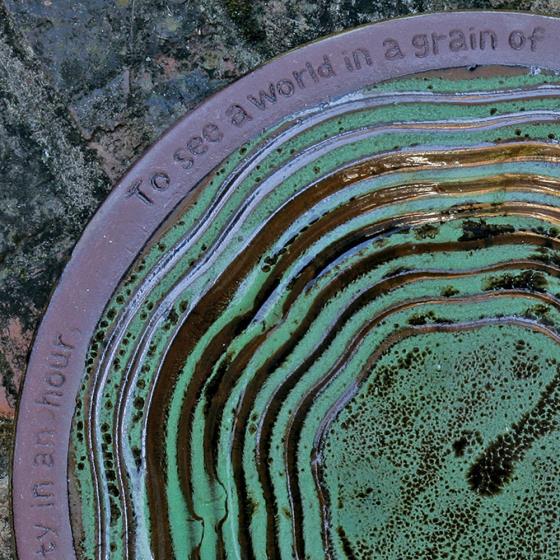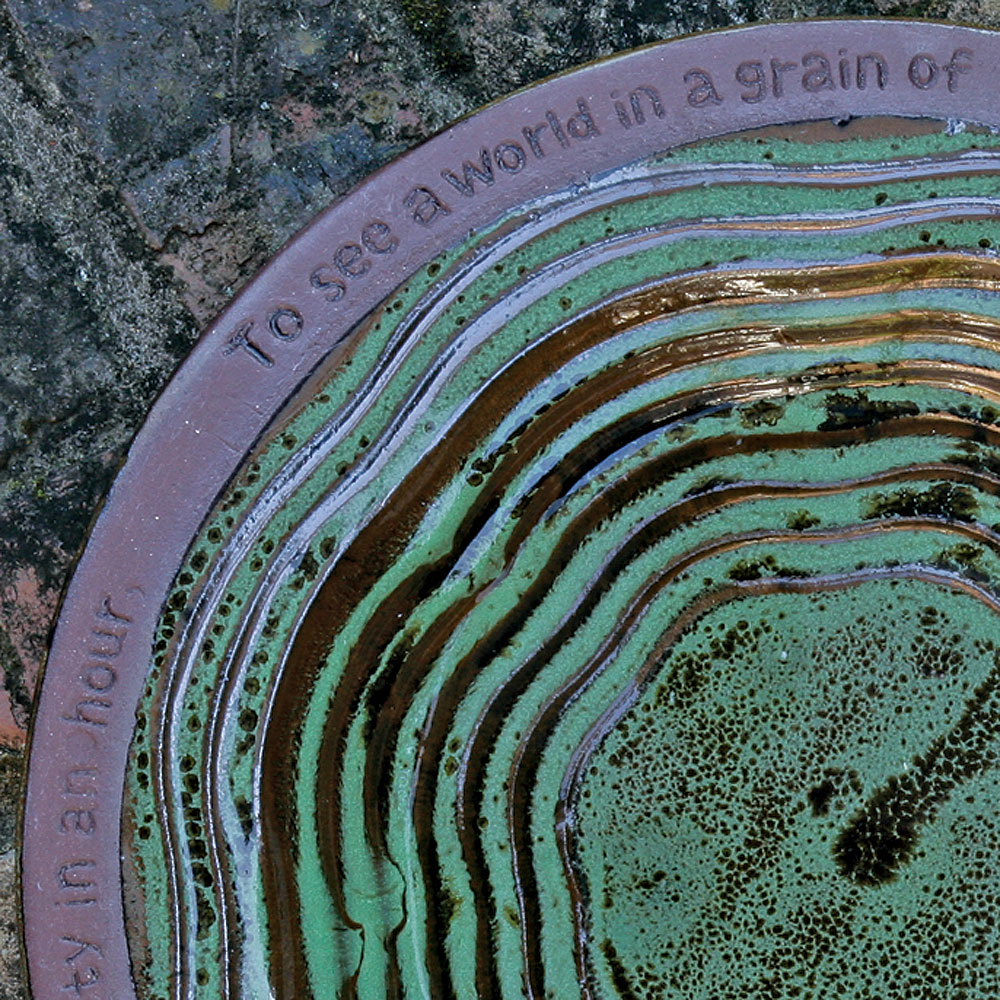 Echoes ceramic bird bath
(18 Reviews)
This high-fired glazed bird bath is both wonderfully ornamental while being fully functional. Durable and sturdy, it features a graduated ripple step design to allow birds to get a secure footing when drinking and bathing.
Read full information
Product description
This high-fired glazed bird bath is both wonderfully ornamental while being fully functional. Durable and sturdy, it features a graduated ripple step design to allow birds to get a secure footing when drinking and bathing.
A gorgeous addition to any garden or outdoor space, the Echoes bird bath is made from frost-resistant, glazed terracotta in a lovely mottled green hue.
It features an iconic quote from William Blake's poem ''Auguries of Innocence'', with the following words inscribed around the edge of the bath: ''To see a world in a grain of sand, And heaven in a wild flower, Hold infinity in the palm of your hand, And eternity in an hour.''
The Echoes bird bath makes a wonderful gift for both bird and literature lovers looking to add something special to their outdoor space.
High-fired glazed terracotta.
Height: 9cm (on supplied feet).
Diameter: 34cm.
Frost-resistant.
Mottled green colour.
Rippled design for bird safety.
Comes with matching ceramic mounting feet.
advice

While this bird bath is frost resistant, it is not frostproof. It may be worth protecting it from severe icy conditions and repeated cycles of freezing and defrosting, as all glazed ceramics can eventually suffer water penetration and subsequent frost damage.

Birds need water for drinking and bathing. Water is particularly important during the winter when natural supplies may be frozen, and in dry, hot weather during the summer when water can be hard to find.

Keeping your bird bath clean will help keep your birds healthy, happy and coming back for more.

To find out more about bird baths, keeping them in good condition and for tips on dealing with bird baths and ice in cold weather, view our guide to bird baths or watch our video guide to bird baths.

You can also learn more at www.rspb.org.uk/advice or call our Wildlife Enquiries team on 01767 693690 Monday-Friday 9am - 5pm.
I've had one for many years
I've had one of these bird baths for over ten years. It's survived numerous hard frosts, down to at least minus 10 one year. It's put up with me getting the ice out with a kettle of boiling water. This year I thought maybe boiling water a bad idea so had the not so great idea of tapping it against the flagstone and knocked a bit off. Aaargh, silly me. Reading the other reviews it seems like it's pot luck whether you get a tough one like I did or a delicate, frost destroyable one.... I've just ordered a replacement, crossing my fingers!
Kathryn Crouch
Age: 35 - 44


06/Sep/2023
Lovely but does not attach securely to pedestal
I bought this as a direct replacement for a previous version of the same product, which smashed through my own error. I already have a pedestal, purchased separately with the previous birdbath.

The bowl is just as lovely as the last one was. However, my previous version had a circular ridge on the base, allowing it to fit securely on the pedestal. This ridge has been removed from this version, so it has a simple dished base and does not intersect with the pedestal in any way. I have seen it slide around and tilt when larger birds land on it, and I am not confident it will last as long as the old one.

I can probably fix this with a little DIY, however it seems like putting this ridge back on the base is a simple change that the manufacturer could make, which would make this product much more useful on a pedestal.
RSPB response
Thank you for your feedback- we have gone back to our supplier with this information. If you wish to, you can use a silicone adhesive to securely fix the stem to the bowl.
Selina
Age: 45 - 54


12/May/2023
Shatters at first frost. Waste of money.
Looks lovely but won't withstand even a mild frost.
RSPB response
Thank you for the feedback - we have gone back to the supplier with this information. Please get in contact with customer services and they will be happy to assist you with a refund.
Free UK delivery for orders of £50 or more (or £3.95)*

Please allow 3-5 working days for in stock items to be delivered
See our delivery and returns page for full details.
RSPB Shop offers a no-quibble free returns policy.
We hope you will be delighted with every purchase, but if not, we will offer you a replacement or a full refund - whatever the reason. Just let us know within 90 days of delivery by contacting our customer service team on 0345 034 7733.
Full details of our returns policy >